After School Club
Our afterschool club runs from 3.20pm to 6.30pm Monday to Friday during term time.
Our staff and minibuses collect children from the following schools:
Grestone Academy
St Teresa's Catholic Primary School
St Marys C of E Junior and Infant School
Hamstead Junior and Infant School
Ferndale Primary school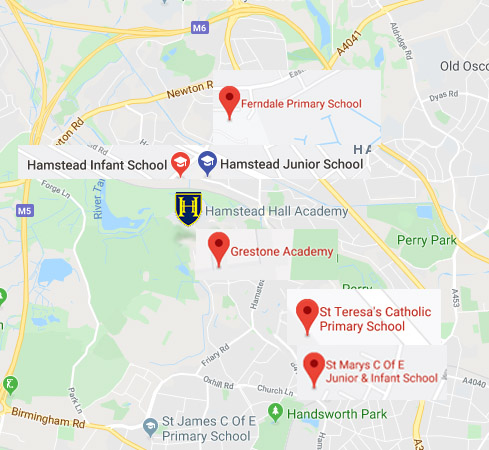 What we do
We aim to arrive back to Hamstead Hall Academy before 3.50pm. Upon arrival, children are given the opportunity to have free play in the sports hall, 3G pitch or field, and then play on the computers. Between 4pm and 5pm children are given a light snack (toast with spreads or cheese/salad wraps).
Cost
There is a flat rate charge of £3 for collection for any time until 4.20pm. You will then be charged half hourly rate of £1.50.
| | |
| --- | --- |
| Time of Collection | Charge |
| 15:20 – 16:20 | £3 |
| 16:21 – 16:50 | £4.50 |
| 16:51 – 17:20 | £6 |
| 17.21 – 17:50 | £7.50 |
| 17:51 – 18:20 | £9 |
| 18:21 – 18:30 | £10.50 |
| 18:31 – 18:45 | £15.50 * |
* After 18:30, there is a late charge fee of £5 every for every 15 minutes.
Collection
You will be provided with a number to call when you arrive to reception at Hamstead Hall Academy. Please state the name of the child you are collecting. We will note the time down you called and upon collection, you must sign your child out.
What we need from you
We must have registration forms for each child prior to being picked up. You must also confirm who is picking your child up every day and let us know in advance if someone different is picking them up (E.g. relatives/grandparents/siblings)
You can select what days you would like your child to be picked up. We must be made aware if we are collecting your child on the respective day before 12pm.
You must also make sure you have confirmed with the school (reception and class teacher) that a member of staff from Hamstead Hall Academy will be collecting your child.
As spaces are limited, please contact:
afterschoolclub@hamsteadhall.com
to confirm your place.