Prospectus Course InformationApply
Sixth Form Welcome Video

We are delighted that you are considering joining our successful Sixth Form. At Hamstead Hall Academy we believe that our Sixth Form is the stepping stone to success, we firmly believe in combining academic study with extensive opportunities for enrichment.
Our Sixth Form students are enthusiastic, dedicated and resourceful young adults who are excellently prepared and equipped to take their place in society. Obtaining excellent qualifications is fundamental to Sixth Form life, but this is balanced with the aim of developing essential personal qualities through involvement in activities such as the Duke of Edinburgh Gold Award, peer mentoring and charitable work.
In the last Ofsted Inspection, it was stated that: "Sixth Form learners benefit from a highly effective 16 to 19 study programme" which includes a rich variety of activities to enrich their learning. Students complete work experience, have the option to do international charitable work, visit The Gambia and participate in 'The Community Apprentice', which we have won for the last two years.
Students want to come to Hamstead Hall Sixth Form, our outcomes and results continue to improve and more top grades are being achieved. Please take the opportunity to come and meet us and see for yourself our Sixth Form in action.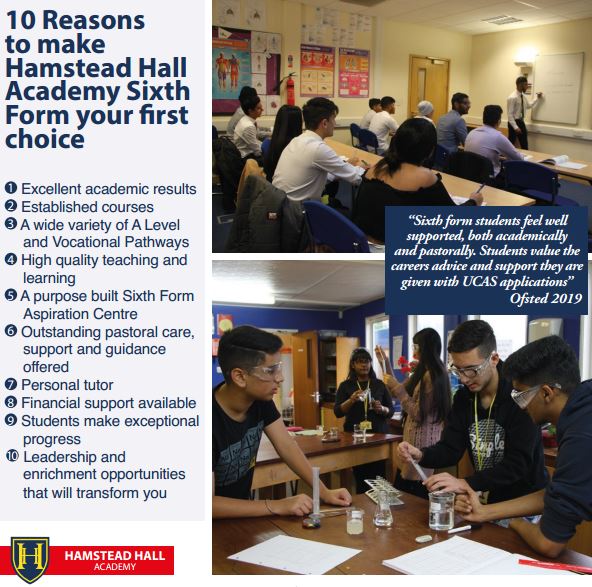 A great choice of subjects
At Hamstead Hall Academy we offer both academic and vocational study pathways which include a broad range of subjects in order to meet the needs of all of our students. For level three courses students will select a minimum of three subjects.
Level 3 Qualification Pathways, Subjects and Courses include:
A Level Academic Pathway 5

Grade 4 GCSE's required including English and Maths

BTEC Vocational Pathway 4 Grade 4 GCSE's required

Subject List:

Art

Biology

Business

Chemistry

Combined English Literature and Language

Drama

English Language

English Literature

French

Geography

Government and Politics

Graphics

History

Mathematics

Media Studies

Music

Philosophy

Physics

Psychology

Religious Education

Sociology

3D

Subject List:

BTEC Health and Social Care

BTEC Sport

BTEC Information Technology

BTEC Business

BTEC Forensic Science and Criminal Investigation

BTEC Performing Arts
What are you waiting for? Click here to apply.
Useful Documents
Please click to see: