Careers
Students Area
Our Vision
To provide an enjoyable, creative, and challenging education that inspires all students to equip themselves with the keys to open doors to either University, an Apprenticeship or Employment.
We believe that effective careers education, information, advice, and guidance not only contributes to the well-being of individuals but also to the well-being of their families, the communities to which they belong, wider society, businesses and the economy.
Hamstead Hall Academy believes that every student should be given equal, meaningful opportunities to experience a range of interventions to support their future decisions. Through our careers programme, we aim for all our students to be instilled with the confidence and knowledge to support them in making positive, fully informed decisions about their future career pathways, including understanding all of their post 16 and post 18 options. This awareness will enable students to discover opportunities to pursue a route that best suits their personalities, unique abilities, developing skills and career aspirations.
As students navigate through the Careers Programme at Hamstead Hall Academy, they will demonstrate and experience our values of Pride, Persistence, Patience, Preparation and Progress.
Students will use Unifrog, a Careers platform, which will guide them through their career journey. In Year 7 they will start with exploring career ideas and researching a wide range of career choices. In Year 8- 11 they will continue with their research and will be given opportunities to engage with both colleges and training providers. In year 10, students will be supported to carry out virtual work experience. All Year 11 students have access to an individual careers guidance interview and this is also offered to both Year 12 and 13 students. In addition to this in the Sixth form students are provided with support with researching their post 18 options and are provided with a personal UCAS teacher to enable them to be provided with one-to-one support throughout the UCAS process.
If you think you can help with our careers programme, please click here.
careers plan 2023 2024 draft.pdf
Provider Access Policy
provider access policy 2023.pdf
Contact Details
Measuring the impact of the career's curriculum
How the School measures & assesses the impact of the careers programme on pupils [Sept 2023-2024)
The school is using the 'Compass evaluation tool' to assess ongoing progress in relation to the eight Gatsby Benchmarks.
The school has regular meetings with the Careers Enterprise Advisor to monitor and implement strategies to improve the Gatsby benchmarks.
The school has a 'Careers Programme' in place to outline the events and activities being planned in relation to this year's priorities and the eight Gatsby Benchmarks.
The 'Careers Programme' is reviewed termly by the Careers Leader and the SLT member in charge of Careers.
A designated Governor has responsibility for overseeing the quality of Careers Guidance.
The following steps are in place to evaluate the effectiveness of its careers programme each year.
Review of the objectives of the programme with a focus on outcomes for learners & assessing if the objectives have been met
Focus on the delivery of the programme and evidence of impact on pupils ( e.g. University Talks, Assemblies, PSHE days, attendance of study days and masterclasses, Careers fair )
Using feedback from staff, students, employers and local FE and HE providers (by completing a questionnaire on a Google form) in adapting the programme to continuously improve it so it meets the objectives
Monitor the extent to which incorporating information and links into curriculum affects the uptake of subjects at GCSE and Post 16
Review of communication with students and parents
Destination data (DfE)
Year 11 and Year 13 is used to assess how successfully students make the transition into the next stage of education or training, or into employment and to inform future CEAIG provision.
This is analysed by the Careers Leader with key trends and actions fed back to SLT and Governors.
The school's next review of the Careers Programme information: September 2024
Destinations
Post 16
Year 11 Destination Data 2023
Total 188 Students
105 FE college
70 Hamstead Hall Academy Sixth form
7 6th forms at other schools
3 Apprenticeship/Traineeships
1 Employment
1 Marines
1 NEET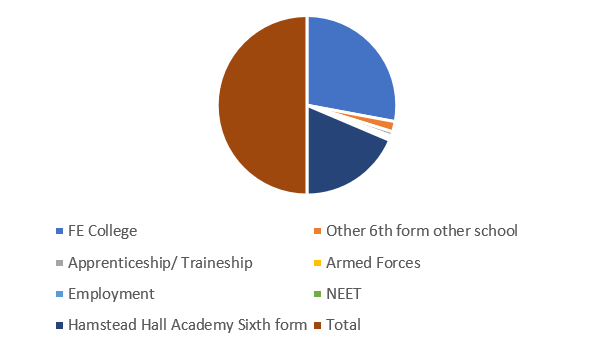 97% of the cohort remained in education.
37% of the students stayed onto the School Sixth form to study either a Level 3 Academic or Vocational Pathway
4% of students joined Sixth forms at other schools to study A levels
56% of the students went to FE college to study Level 1 to Level 3 Courses. Level 3 courses to include, T-Levels, A levels and BTECs. Some students also have chosen to re-sit their GCSE's.
The top 5 most popular institutions were:
Hamstead Hall Academy
Sandwell College
Matthew Boulton
Central St. Michaels
South and City College
1.5% of students accessed an apprenticeship/traineeship.
0.5% students joined the Armed Forces.
0.5% of students are in employment.
0.5% of students are NEET.
Post 18
In 2023, out of our cohort of 69 students.
51 Students gained a place at University (74%)
8 Russell's group
34 students have chosen to stay at home 67%)
8 Apprenticeships (1 degree apprenticeship)
5 gap year
1 re-sit A levels
1 Art college
3 Employment
More students than in previous years choosing the apprenticeship route rather than the academic route.
The 5 most popular destinations were:
Birmingham City University.
Wolverhampton University.
Aston University.
University of Birmingham
University College Birmingham
The 5 most popular course types were:
Computer Science
Psychology
Accountancy
Business/finance.
Health and Social Care related – Optometry/ Nursing/Sports Science / Social Work
Student Finance for University
Q. What finance is available when I go to University?
A. The main two ways are by applying for a tuition fee loan and a maintenance loan
Extra financial help is available, in the form of bursaries and scholarships, but this would not be for everyone. This depends on the subject that you are studying and your personal circumstances.
For example, if you have children, dependent adults or if you have a disability. Additional financial help may be available
NHS bursaries if you're studying certain medical, dentistry or healthcare courses.
A grant to cover some travel expenses if you're studying a medical, dentistry or healthcare course.
Social work bursaries if you're a social work student.
Extra funding if you're a teacher training student.
Many universities also offer extra money directly to students. These bursaries, scholarships and awards don't have to be paid back. Each university has its own rules about who qualifies, how much you can get and how to apply. You get your bursary directly from your university or college.
Q. How do you get the money to pay for your tuition fees?
A. You can apply for a Tuition Fee Loan. The loan is paid directly to your university or college. Full-time students can apply for up to £9,250 per year. Part-time students can apply for up to £6,935.
This is a loan so you have to pay it back once you have finished your course. For students who started their degree in September 2023 or later, you pay back 9% of any income over £25,000.
Q. What is a maintenance loan?
A. It helps to pay for your living costs while studying at university, such as accommodation, food, travel and clothes. The loan is paid directly into your bank account at the start of each term.
The amount you get depends on where you are living (you get more in London) and whether you are living at home. Some of the loan is available to all eligible students and part of it is means-tested, so this part is dependent on household income.
For details of how much loan you can get, use the Student finance calculator
You have to pay it back, but only after you have finished your course. For students who started their degree in September 2023 or later, you pay back 9% of any income over £25,000.
Q. How do I apply for Student Finance?
A. Applications open from February 2024 for September 2024 start.
Q. Is everyone entitled to student finance?
A. No, it depends on factors such as your age and your nationality or residency status. See gov.uk/student-finance for full details.
Do you need careers advice?
If you are in Year 11 you will all get a 1:1 interview this year with the Careers Advisor. The Careers Advisor , Mr Fleet is in school every Tuesday. Mr Fleet is a qualified Careers Advisor and a registered professional with the Career Development Institute.
If you are in the Sixth form and you would like a Careers Interview, you need to speak to Mrs Sheridan ( Careers Leader) and an interview will be arranged for you . Mrs Sheridan can be found in room 213 in the Craythorne building.
Mr Fleet provides impartial (unbiased) information, advice and guidance (IAG) to help students make an informed decision about their future options and career choices.
If you are in Year 7- Year 10 and you need some Careers Advice, you need to speak to Mrs Sheridan who is based in room 213 in the Craythorne building.
A range of careers information is available in the school library.
Is there any Careers help and guidance that I can get outside school ?
You will need to contact the National Careers Service. Their careers advisers can talk to you about your choices online ( https://nationalcareers.service.gov.uk ) or over the phone on 0800 100 900.
Advisers are available from 8 am to 10 pm.
Also, you can get help from Birmingham Careers Service ( birminghamcareer.service.co.uk ) if:
You have left school.
Are aged 16 to 19 (up to 25 if you have a learning difficulty or disability).
Are unemployed and looking for a college course, job, training or apprenticeship.
This service is available at their Birmingham Careers Service outreach venues. The nearest venue to our school is based at the Library of Birmingham.
Labour Market Information
lmi guide my wdday into the world of work.pdf
CV Writing
To apply for jobs you will be expected to send a CV or complete an application form. Below is some information to get you started on the process.
Q. What is a Curriculum Vitae (CV)?
A. A CV is a document used when applying for jobs. This could be a part-time job when you are still in education or a full-time job when you have left school or college. It allows you to summarise your education, skills and relevant work experience enabling you to successfully sell your abilities to potential employers.
Q. What is the purpose of a CV?
A.
To demonstrate your skills, personal qualities, interests to a potential employer.
To demonstrate your suitability for a particular job by tailoring your C.V to the job description and person specification using your transferable skills.
Q. What do information do I need to put in my CV?
A. C.V represents who you are. Sections to include are: -
Personal details including a professional email address
Personal Statement relevant for the position you are applying for
Key Skills
Education and Qualifications
Work Experience
Interests
References
Q. What do I need consider before writing my CV?
A.
Positive, blow your own trumpet, show off and highlight your skills.
An excellent demonstration of your written communication skills.
Relevant for the job you are applying for, highlighting relevant skills and experience
Truthful
No more than 2 sides of A4
Well laid out and readable with a font such as Ariel, Times New Roman, Verdana and point 11 (no less than point 10)
Should have no gaps
Q. How much of my personal information should I include?
A.
Name, address, (NO DOB OR MARITAL STATUS)
A professional sounding email address, name, surname, and numbers if taken.
Regularly check email and spam when applying for jobs. (Set up a specific email for job search).
A contact phone number with a professional voicemail in case you miss a call.
If posting a C.V online to job websites, you may want to remove your address and just have the area where you live. You can also remove your referees and put 'References available on request.'
Mention in your Personal Statement if you are willing to relocate.
Some employers prefer full address details for potential background checks, so do include this when applying for specific jobs.
Q. What type of information should I include in the personal statement?
A.
Who am I and what opportunities am I looking for
How do my skills, experience and interests relate to the job I am applying for
What is my ambition, what are my goals.
Demonstrate why I am the best person for the job.
Look at the job role to make the Personal Statement relevant, use key words mentioned in the role. Tailor the statement to each application.
Q How would you write about your skills on your CV ?
A. Skills can be achieved through school, work experience, voluntary work, school subjects, clubs, hobbies, and activities.
Listing your skills in a methodical way and evidencing your skills can help you with your C.V writing and also with your interviews. Skills are transferrable. E.g., you help to make phone call to organise a charity event demonstrates communication, organisation, negotiation, time management if it was on a timescale.
What skills do employers look for Maths, English, IT, flexibility or adaptable, Resilience – learn from experience, initiative-taking – responding to situations. Transferable, practical, negotiation, instructing, financial literacy, planning, research, organisation, ability to learn, diligence, strategic thinking, people skills, web design, commercial awareness
Use job adverts to identify your skills
Q. How do you write about your work experience on your CV?
A.
List work experience, voluntary roles, part time jobs, virtual work experience.
Upskill your C.V with Springpod.com
Q. How do you include your qualifications in your CV?
A.
Most recent first, highlight any top grades.
Q. How do you include your hobbies and interests in your CV ?
A.
Highlight if they are relevant to the job e.g., keeping fit if you are applying to the Police Force. Running a cake sale if you are applying for a retail position.
Are your technology skills relevant, is your use of social media useful e.g., for Marketing.
Q. Do you have to include REFERENCES in your CV?
A.
You can put Reference on Request, but you should have your Referees lined up and its good manners to ask before giving their details to an employer.
Two people who can provide a character or work reference. People you can trust who will make positive statements about you
Letting them know they are your referees will give them time to prepare something so they can respond quickly to an employer request, they can also look out for the request so that it does not just end up in their junk mail and you lose an opportunity.
Q. What is important to check on your CV before you send it to Companies?
A.
Do not get rejected for spelling and grammar mistake, an employer will think you are careless, use spellchecker and Editor.
Ask someone to proof-read it
Tailor it to opportunities, highlight relevant skills.
BACKGROUND CHECKS lock down and make private or remove things from your social media you do not want an employer to see in case they do a background check.
Save your C.V document using your name e.g., Joe Bloggs CV so it can be identified by an employer.
Q. What are the common mistakes that are made on a CV and should be avoided ?
A.
Poor formatting.
Not clear and easy to read, 8 seconds to make an impact.
Information needs to be relevant and accessible.
Concise, not cluttered.
Beware of different fonts and sizes, it can distract from the content. Min point 10, good amount of white space.
Focus on content, substance over style.
Failing to tailor your application.
Tailoring will show your motivation and commitment and will enable employers to see your relevant skills more readily. Check job and person specification and tweak accordingly.
Spelling errors
Need to highlight your precision and diligence, take time to check carefully.
Check tenses, did something happen in the past?
Change font size and colour, trick brain to think new piece of writing to check for mistakes.
Read aloud, slow down though process. Read bottom up.
Lying
May be obvious and C.V could be rejected.
Employer may check.
You may have trouble with interview questions.
When you are trying to get a foot in the door and impress potential employers it is tempting to be economical with the truth, but lying on your C.V is a criminal offence.
Sell the qualifications, skills and experience you do have.
Lack of evidence
Without evidence an employer cannot be confident of your ability.
Think about what was achieved and quantify with data where possible.
Not explaining 'why'
Explain why you have chosen to undertake certain activities in terms of your personal and professional development. You should then elaborate even further on the resulting skills you have gained. E.g., positions of responsibility you have held and outline what you have taken from the experience.
As a rule, average CVs give you the 'what' - for example, the degrees or jobs that person has held. Great CVs also give the 'whys' - for example, why that person has chosen that degree or job.
Ignoring gaps in your work history (future relevance)
Gaps in employment history are fairly common and rarely a problem as long as they are explained. (See Prospects article for further information).
Application Forms
These will vary depending on the company that you are applying to.
Q . What are the typical sections on a job application form?
Personal information
Educational background.
Work experience
Competency-based questions
Personal statement – linked to the job specification in the advert.
Q. Which websites can I access which will provide me with more information on how to complete my application form?
National Careers Service Careers Plus
Post 18 Pathways
During the Summer term of Year 12 you will start your UCAS application form. From the start of year 12 you need to continue to research your career pathway . The majority of our students apply to University .If you are planning to go to university the following information will help you .
Q. What support will Hamstead Hall Academy provide for me when I am completing my UCAS application form?
A. In Year 12 you will attend two UCAS research exhibitions. One at the start of year 12 to enable you to start thinking about your University options. For example, what course, what entry requirements and whether to stay at home or go away. At the end of Year 12 you will attend the UCAS discovery exhibition at the NEC where you will receive the most up-to date information on the courses that you will apply for, starting September 2025. During our PSHE programme you will also be supported in making decisions such as course choice throughout Year 12.
In Year 13, you will all be allocated a personal UCAS Tutor who will guide you through the UCAS progress and send off your form. They will oversee your reference and provide with feedback when you are selecting your course and writing your personal statement.
Q. How do I decide what to study and where?
A. There are over 37,000 courses and 370 higher education institutions, so research is the key to making an informed decision about what to study and where.
There are lots of resources that can support you with your research. The main two websites you will most likely use are UCAS and Unifrog.
There are also University league tables can be used to compare universities. Although they are a useful source of information, they do have their limitations! For example, not all indicators are updated yearly and student feedback may not be objective. However, all should include student satisfaction scores; student to staff ratio; graduate prospects and entry grades.
University League tables can be found on the following websites -
Q. How do I apply for University courses ?
A. You need to use the UCAS website to apply for undergraduate courses. In the Summer term of Year 12 you will be provided with a buzzword which will link your UCAS application to Hamstead Hall School to enable you to register with UCAS apply.
Q. What is the deadline for my application form?
A. The UCAS deadlines are 15th October for the universities of Oxford, Cambridge or any professional course in medicine, veterinary medicine/science and dentistry.
The school deadline is in the December of the academic year that you are applying for. The official UCAS deadline is the 25th January, but this is usually around the time of your mock exams. So we ask you to send your form off before the Christmas holidays.
Some course providers require additional admissions tests to be taken alongside the UCAS application, and these may have a deadline.

Q. Will I have to sit an assessment as part of the application process?
A. Possibly, it will depend on what course you have applied for (e.g. law, medicine) and where you have applied (e.g. Cambridge and Oxford). Most courses at Oxbridge will require you to sit an admissions test.
The admissions test for Dentistry /Medicine – UCAT and BMAT are required by some Universities
LNAT is an admissions test for law, which is also required by some universities.
STEP/ MAT/ TMUA is a requirement for a few universities for Maths related degrees.
Some admissions test you can complete at school, but some you have to go to an external test centre. You must speak to your Head of Year as soon as you know that you need to complete an admissions test.
Most admissions tests take place early in the school year, so if you do need to take one you'll need to register for it early, possibly before you've sent your application off.
UCAS add that many of the courses that use admissions tests are also the courses that have the 15 October application deadline, so it's worth checking these details in advance.
There is more information is on the UCAS website.
Q. How many courses can I apply for?
A. 5 in total, however, if you are applying for medicine /Dentistry only 4 choices. You can choose a different course for your 5th choice e.g. Bio-medical science.
If you are applying for Oxbridge you can ONLY apply to either Oxford or Cambridge NOT both.
Q. Will I be interviewed for my course?
A. If you are applying for courses for the early deadline, you will be interviewed for your course. In addition to this and Health and social care vocational degrees, e,g Nursing, Occupational Therapy, Physiotherapy, Social work you will be required to attend an interview. Also , primary school teaching. If you are applying for an Art based degree you will also be required to attend an interview. Some other degrees may also require and interview but these are most common ones.
Q. What do I need to include in my personal statement?
A. The main point you need to remember if that this is about you. You need to make sure that you show the admissions tutor that you have the ability, the motivation and some transferrable skills to study your chosen course. At least ¾ of your personal statement should be linked to your chosen course.
This structure is not 'set in stone' and some applicants present their PS in a different way .
e.g. if you have applying for an Academic degree at Oxbridge or a medicine degree you should be demonstrating a 'higher level of knowledge' by demonstrating wider reading on the subject that you are applying to . This is really important and will take up a lot of room
Here is a brief overview to get you started.
Paragraph 1 – What subject you wish to study and why ?
Paragraph 2 – Current studies and transferrable skills
Paragraph 3 – Work experience, voluntary work , roles and responsibilities
Paragraph 4 – Hobbies and interests
Paragraph 5 – Final conclusion
Many different sources give you different hints, tips and advice. Useful websites including www.unifrog.com and www.ucas.com.
Q. What is the difference between a conditional and unconditional offer?
A. conditional offer usually means you are required to get certain grades or points in your A levels (or equivalent). This will mean waiting for results day in summer to see if your exam results meet the conditions.
An unconditional offer usually means you've already met the entry requirements, so the place is yours if you want it! By accepting an unconditional offer you are committing to go to that university, so you can't make an insurance choice or be entered into Clearing.
You can accept a maximum of two choices – one firm and one insurance. You can only have an insurance choice if your firm choice is a conditional offer. If you accept an unconditional offer as your firm choice then the place is guaranteed, so you cannot have an insurance choice.
You will only attend your insurance choice if you don't meet the conditions of your firm choice but you do meet the conditions of your insurance offer. So make sure your insurance offer is somewhere you would be happy going to.
You also have the option to decline offers. If you decline all offers, or are not made any offers, you can use UCAS Extra and/or Clearing.
Q. What is the UCAS tariff?
For entry requirements some Universities will ask for grades and some will ask for either grades or UCAS tariff points.
Q. What is UCAS extra ?
A. Extra is a way of making a further course choice. If you've used five choices and weren't accepted or you decided to decline any offers you received, you can use UCAS Extra to apply for more courses (one at a time). It is open between 25 February and early July.
Q. What is clearing?
A. On results day, if you do not get the grades for your first or insurance choice you can go through clearing. You need to check the clearing vacancies on the UCAS website . Some Universities publish these before results day and others do not publish their vacancies until A level results day.
Q. Can I study abroad ?
A. Yes. but you must careful consider your options. You will have to pay international student fees so it is likely to be very expensive so you need to carefully research your options and the financial implications:
A Star Future: Use to search for courses taught in English abroad.
The Student World: This gives guidance about where to study, why, the process and financial implications.
Eunicas: Enables UK and Irish students to apply to degree programmes, taught through English, in universities across Europe.
Fulbright Commission: Use to explore studying in the USA.
Study in the USA: Use to explore studying in the USA.
Study options: Use to explore studying in Australia and New Zealand.
StudyLink: Information and guidance about studying abroad.
Medical Doorway: Free advice to students aiming to study medicine, dentistry or veterinary medicine in Europe.
Q. How and when do I apply for student finance ?
You apply to student finance for your tuition fee loan and your maintenance loan. Applications open in mid February and the deadline is May. (They never actually state an exact date.) It is important that you apply for your student finance before the deadline otherwise they cannot guarantee that your money will be in place for when you start University.
Please visit the following website for further information.
https://www.gov.uk/student-finance-register-login
Apprenticeships
Q. What are the different types of Apprenticeships?
A. There are three types of apprenticeship you can apply for depending on your current skills and qualifications. These are:
Intermediate level apprenticeships. These are generally considered to be the same level as five GCSE passes. Entry requirements will vary depending on the provider.
Advanced Level Apprenticeships. These are generally considered to be the same level as two A level passes. Entry requirements will vary, but most likely you will be required to have achieved 4/5 GCSE's grade 4-9 or above.
Higher and Degree Apprenticeships. (some companies call these Foundation Apprenticeships) You would apply for these after you have completed your Level 3 qualifications (BTEC Level 3 / T-levels/ A levels)
Q. What are Higher Apprenticeships?
A. The UCAS website conveys that higher apprenticeships provide an opportunity to gain a higher education qualification, such as an NVQ Level 4, HND or foundation degree. They can take from one to five years to complete, and involve part-time study at a college, university or training provider.
Q. What are Degree Apprenticeships?
A. At the end of the apprenticeship you will achieve a degree while earning a wage and getting real on the job work experience in the chosen profession. Time will be spent both in the workplace and studying at University.
Q. What are the entry requirements for Intermediate and Advanced Apprenticeships?
A. They vary. An apprenticeship is like a job and students need to demonstrate a strong interest in their chosen apprenticeship area and be ready to start a job! You need to check the apprenticeship vacancies for the specific entry requirements. For example, some may want 4 or 5 GCSEs at grades 9-4, others may ask for a Level 2 qualification in English and maths (such as GCSEs at 9-4 or a Level 2 Award in Functional Skills). Some may ask you to take a numeracy and literacy test before you are accepted onto the Apprenticeship.
Q. How do I apply for an Apprenticeship?
A. You need to search and apply using the apprenticeship website. You can also check out employer websites if you have a particular employer in mind.
Q. Where do I find Vacancies for Apprenticeships?
Q. What are the benefits of doing an apprenticeship?
A. Benefits include earning a salary, getting paid holidays, receiving training, gaining qualifications and earning job-specific skills.
Q. How much do you get paid ?
A. It depends very much on the type of apprenticeship you do. Can depend on your age also. For the latest information go to www.gov.uk
Q. What types of apprenticeships are available?
A. The apprenticeship website says there are over 150,000 employers "offering apprenticeships in more than 200,000 locations, covering more than 170 industries and 1,500 job roles". Specific examples include:
Accounting
Animal care
Teaching assistant
Healthcare support worker
Dental nurse
Pharmacy technician
Cabin crew
Leisure
Travel services
Design assistant
Construction
Engineering
IT
Retail
Hair and beauty
Plus lots more…
Questions & Answers
Q. What are my options after the Sixth form?
A. Your main options are higher education, an apprenticeship, employment , further education or taking a gap year.
Q. What types of qualifications can apply for at University?
A.
Certificate of Higher Education (CertHE) & Diploma of Higher Education (DipHE): First and second year of a degree course.
Higher National Certificate (HNC) & Higher National Diploma (HND): HNC is a one year work-related course and the HND is a two year work-related course.
Foundation degree: Flexible vocational qualification combining academic study and workplace learning – usually takes two years to complete (or longer if part-time).
Bachelor's degree: three to four year course which can also be available as a part-time option allowing you to study and work.
Q. What types of courses can I apply for at University?
A.
Single: study one subject
Joint honours degree: divide your time 50:50 between two subjects.
Major/Minor: study two subjects, normally at a 75%:25% rate.
Combined honours programme: study between two to four subjects, specialising in just two subjects in years two and three.
Modular courses: build a personalised course by choosing the modules you're interested in.
Sandwich courses: vocational courses, often involve one year in industry.
Foundation year (year 0): if you don't have the right qualifications some unis offer this to help students prepare and enter higher education.
Q. What are higher apprenticeships and where can I find vacancies?
A. The UCAS website conveys that higher apprenticeships provide an opportunity to gain a higher education qualification, such as an NVQ Level 4, HND or foundation degree. They can take from one to five years to complete, and involve part-time study at a college, university or training provider.
https://www.gov.uk/apply-apprenticeships
https://www.prospects.ac.uk/jobs-and-work-experience/apprenticeships/degree-apprenticeshipseship
Q. What are degree apprenticeships and where can I find vacancies?
A. In March 2015 these were launched by the government. They have been developed by businesses, universities and colleges. Apprentices will split their time between university study and the workplace and will be employed throughout – gaining a full bachelor's or master's degree from a top university while earning a wage and getting real on-the-job experience in their chosen profession.
https://www.gov.uk/apply-apprenticeships
https://www.prospects.ac.uk/jobs-and-work-experience/apprenticeships/degree-apprenticeshipseship
https://amazingapprenticeships.com/higher-degree-listing/
https://www.pwc.co.uk/careers/early-careers/our-programmes/flying-start-degrees.html
https://www.ey.com/en_uk/careers/students/programmes/schools
https://www.healthcareers.nhs.uk/career-planning/study-and-training/nhs-apprenticeships
Q. What do I need to consider if I am planning on taking a gap year?
A. You may choose to take a gap year as you may want to use the time to review your future plans, go travelling, do work experience (possibly linked to your chosen course or future career plans), develop new skills, earn money to fund your university place or volunteer in the UK or abroad.
Plan my Gap YearGap Year Ideas
After Year 11/Post 16 Options
Q. What are my options after Year 11?
Your main options are further education (Sixth form / FE college) apprenticeships and jobs.
At Hamstead Hall Academy Sixth form we offer Level 3 courses, including BTEC's and A levels. Please see the Sixth form area of the website for more information.
Q. I can't decide what I would to do after Year 11. What can I do to help?
All Year 11 students will have a 1:1 Careers Interview with Mr Fleet (Our Careers Advisor )
Use Unifrog to help you to research your careers options.
Attend open days/evenings at our sixth form and other local providers
Speak to Mrs Sheridan (Careers Leader based in 213)
Q. When should I start applying for sixth forms, colleges, apprenticeships and jobs ?
If staying in further education (sixth form/ college) aim to apply by Christmas at the latest as some colleges fill up before the Christmas holidays! Check the course entry requirements and it is advisable to attend open days/evenings. For many sixth forms/ colleges there will be a deadline in which to submit your application form. If you do not submit it by the deadline date, the course that you wish to study may be full.
Most apprenticeships and jobs are looking for "immediate starts", so the majority of the opportunities you can go for will be advertised later in Year 11 (such as April onwards). However, some employers recruit early, such as Jaguar Land Rover, HSBC , so make sure that you get organised.
Use the apprenticeship website to create an account and to search and apply for vacancies. You can also set-up alerts for opportunities that interest you. Apprenticeships are a very popular choice, so you must make sure that you do your research and that you are organised.
Q . What are T Levels?
T Levels are a new level 3 qualification that mainly colleges have started to offer. T Levels include lots of work experience; with students spending about 20% of their time in the work place and 80% in college/school. Students will study one vocational course and it will be equivalent to 3 A levels. Examples on offer will include accounting, construction, engineering, childcare, healthcare science, finance and science.
Q. Do I have to stay in education until I am 18 ?
No, but the government has increased the age you must continue in learning. This means that Year 11 students must be in some form of learning until they are 18 years old.
You can choose from the following:
Stay in full-time education. For example, at a college or school sixth form.
Start an apprenticeship or traineeship.
Spend 20 hours or more a week working (including family businesses) or volunteering, combined with part-time education/training.
Go to the government website for more information
Q. Do I get any financial help if I stay on in the Sixth form or go to College to study and FE course?
It depends on personal circumstances. The 16 to 19 Bursary Fund is aimed at students who need financial help so that they can stay in learning. The Bursary Fund can help pay for costs like equipment you might need for your course and transport.
It can be worth £1,200 a year if you are:
In or recently left local authority care.
Getting Income Support or Universal Credit because you are financially supporting yourself.
Getting Disability Living Allowance (DLA) in your name and either Employment and Support Allowance (ESA) or Universal Credit.
Getting Personal Independence Payment (PIP) in your name and either ESA or Universal Credit.
If you're not in one of the above groups you may still get a bursary depending on your personal circumstances and household income. You need to check with your school, college or training provider to see if you are eligible.
More information is also on the government website.
Careers Events
On February 4th 2024 Hamstead Hall Academy will be hosting our annual Careers Fair. This is for every year group from Year 7 to Year 13. Every student at HHA will gain the opportunity to attend the Careers Fair and to gain information which will support their Career Journey.
At the Careers Fair will be representatives from local HE providers including, Birmingham City University, University of Birmingham, Aston University, University College Birmingham and Newman University.
In addition to the HE providers above, we are inviting in apprenticeship providers and employers to our event.
Useful Links

Parents/Carers Area
Newsletter
careers newsletter november 2023.pdf
Employer Area
Testimonials
Testimonials coming soon
Teacher Area
Information
Q. What are the Gatsby Benchmarks and as a Teacher am I expected to link this to my subject ?
A. Yes, Benchmark 4 conveys that all teachers should link curriculum learning with careers.
See below for the 8 Gatsby Benchmarks.
The Gatsby Benchmarks set out a framework for schools to deliver "good career guidance"
A stable careers programme
Learning from careers and labour market information
Addressing the needs of each student
Linking curriculum learning to careers
Encounters with employers and employees
Experiences of workplaces
Encounters with further and higher education
Personal guidance
Q. How can I link my subject to Careers?
A.
Displays in every department related to careers.
Using Unifrog to research your subject and relate to careers
Inviting employers to speak about their career to students.
Visiting an employer or an event (such as The Big Bang STEM event at the NEC).
Teachers talking about their own career path.
Setting real life work scenarios that expand students' familiarity with different jobs. For example, a maths question about a quantity surveyor.
Using a newspaper or magazine article to spark discussion.
Taking students to a university subject master class.
Q. How do I register with Unifrog ?
A. All teaching and support staff and Hamstead Hall Academy should have received a 'Welcome email ' from Unifrog to enable you to register. If you have not received this, please contact Mrs Sheridan.
Partners